I'm a Canadian photographer located near Toronto (Ontario). For many years I have had a keen interest in both birds and photography - uniting my passions for photography and technology with those for nature and the beauty of flying. Holding a private pilot's license ensures that my primary enjoyment comes from aspects relating to flight, and therefore bird photography. Despite that, I try to explore other areas such as landscapes, macro, and mammal photography when opportunities arise. Regardless of the subject, my desire is to make powerful, visually arresting, razor sharp images.

While good equipment doesn't necessarily make someone a photographer, it certainly improves your odds of success. I'm currently using the following equipment:

Canon R5
Sigma 14-24 2.8
RF14-35 f4 IS
EF24-70 f2.8 II
RF 24-105 f4 IS
EF70-200 f2.8 IS II
RF100-500 f4.5-7.1 IS
EF600 f4 IS II
Numerous other accessories

All images are available for purchase as a print, or for publication and licensing. Please contact me if you would like more details - and bear in mind there are many photos in my archives not shown here; I might have just what you're looking for!
Publication credits include Audubon Magazine (and web), Birder's World (now BirdWatching), National Geographic Magazine, ofo.ca, Cornell Lab of Ornithology and Outdoor Photography Canada, as well as various non-profit venues including bird atlases, ebirdr.com and educational outreach programs. I am also a contributing photographer to BirdWatching. More publication is always in the works.
In addition, I have won numerous contests, awards and other honours on various photography forums. Click here to view an interview I did for DeviantArt, which has additional background information
Myself with a curious Florida Scrub Jay: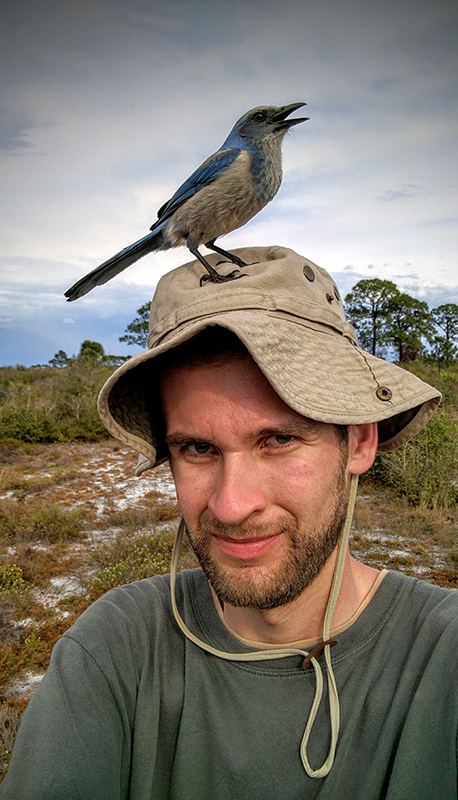 Several published work samples: